Gyres 1-3
2019 installation version/ 2020 screening version
Single channel video, sound, 39 minutes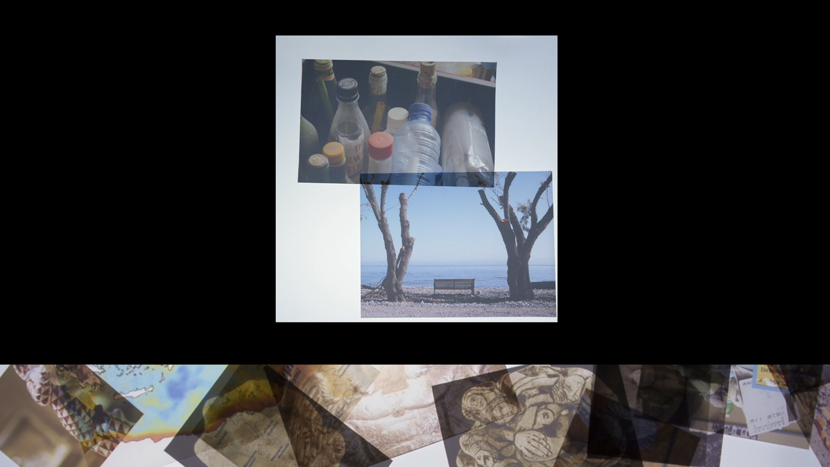 Gyres
video still
Gyres are gigantic ocean currents that carry all kinds of objects across oceans. When they leave the vortex of the gyre, some of these items eventually wash up on the shore, where "beachcombers" pick them up and strive to trace back their itineraries. Gyres 1-3 invents a filmic movement that circulates images and ideas as they pass through the director's mind, like objects drifting on the surface of the Pacific Ocean or the Mediterranean Sea. Better still, Ellie Ga's successful gamble is that of a filmic form which coordinates and links together the movement of ocean currents and the endeavour of beachcombers.
It starts with the creation of a device that carries out on screen this oceanic, scavenging image of thought. The two white rectangles of a light table stand out against the darkness of the frame; a hand selects transparent photographs in the bottom rectangle, among a messy pile of others waiting to be picked up, and then lays them out on the top rectangle. Off-screen, a voice unravels a story that sheds light on the connections between them, and restores the full power of the remains of experiences past as full-fledged images. The hands and the voice belong to the director, alone on board, a peerless seafarer mapping out paths of light through the present storm. From a west-coast beach to an island in the Aegean Sea, from the death of her mother to that of Bruce Chatwin, from bottled prayers drifting towards Symi island to life jackets washed-up on the beaches of Lesbos, Ellie Ga's mind follows its own map, both private and global, of disasters and hopes.
As a disciple of Walter Benjamin, she knows that mourning is the tone of thought, but that the process of thought converts the pain of loss into the joy of encounters and exchanges. Like so many bottles tossed at sea, intimate relics or anonymous remnants, all kinds of fallen images and things are waiting to be gathered up by an open hand, held up by an adventurous mind. Editing as a form of thought: the idea is as old as modernity itself, but Gyres 1-3 is among the very few films of genius that manage to restore its bygone splendour, its power to illuminate the chaos of the world and the turmoil of existence.
Cyril Neyrat for FID Marseille
---

SELECTED PRESS:
Holland Cotter, "The Whitney Biennial: Young Art Cross-Stitched With Politics," The New York Times,
May 16, 2019

Taylor Renee Aldridge, "'We Ourselves Are Our Prize': Lasting Works in the Whitney Biennial Evoke
Toni Morrison and Ancestry Through the Ages",
Artnews, September 19, 2019

Essay on Gyres 1-3 by Tom McDonough, in the fall 2019 issue of Osmos Magazine.
Download

here

.





Installation view Gyres 1-3, Whitney Museum of American Art.




Gyres, 3 minute excerpt from Ellie Ga on Vimeo.


Gyres Installation History:
Galeria Ze dos Bois, Lisbon, PT, 2021
The Foreman Art Gallery, Bishop's College, Quebec, 2020
The Whitney Biennial of American Art, 2019

Gyres Screening History:
Jeu de Paume, Paris, France, 2022
Cinema Calheta, Ponta Delgada, Azores, PT, 2022


Galeria Zé dos Bois

, Lisbon, PT, 2021


Zilkha South Gallery, Wesleyan University

, Middletown, CT, USA, 2021


Videonale 18

, Bonn, 2021


On the Boards / Henry Art Gallery

, WA, US, December 2020


Syros International Film Festival

, 2020


FID Marseille

, Official Selection, International Competition, July 2020


Le Plateau, FRAC Ile-de-France

, Paris, March 2020

Collections:
Hessel Museum of Art, Bard College, Annadale-on-Hudson, New York


The Whitney Museum of American Art


Moderna Museet, Stockholm, SE