Gyres 1-3
2019 installation version/ 2020 screening version
Single channel video, sound, 39 minutes



In oceanography, gyres (gyros, Greek: a circle, a ring) are a combination of winds and currents that produce orbital patterns in the ocean. Debris is often caught in these gyres, and sometimes this debris is released by the gyre and washes up ashore.

The new video installation Gyres by Ellie Ga weaves interconnected narratives focusing on the diverse objects which wash ashore. Gyres is a series of short videos made up of hundreds of transparent photographs filmed on two light tablets, and a voice-over narrative by the artist which moves through a range of experiences, conversations and geographies.

We hear stories about an oceanographer who uses debris from container spills to map the circulation
of the Pacific Ocean's gyre. Similarly, debris from the 2011 tsunami in Japan is used to reconstruct how invasive species have made transoceanic crossings. In Gyres, the viewer encounters stories and objects from forced migrations across the Aegean Sea. We hear about rituals of launching messages in bottles and the offering of metal shoes to appease the Archangel Michael on these same Greek islands. People end up on far-away shores only to be told that they don't belong. Objects that end up far from their origins are collected by beachcombers and put on display. In Gyres, the narrations are constructed through conversations and chance encounters. One conversation is nested inside another conversation. Locations flow into one another.

Through this new work, Ellie Ga explores how flotsam can speak of what is left behind and what resurfaces time and time again.




SELECTED PRESS:
Holland Cotter, "The Whitney Biennial: Young Art Cross-Stitched With Politics," The New York Times,
May 16, 2019

Taylor Renee Aldridge, "'We Ourselves Are Our Prize': Lasting Works in the Whitney Biennial Evoke
Toni Morrison and Ancestry Through the Ages",
Artnews, September 19, 2019

Essay on Gyres 1-3 by Tom McDonough, in the fall 2019 issue of Osmos Magazine.
Download

here

.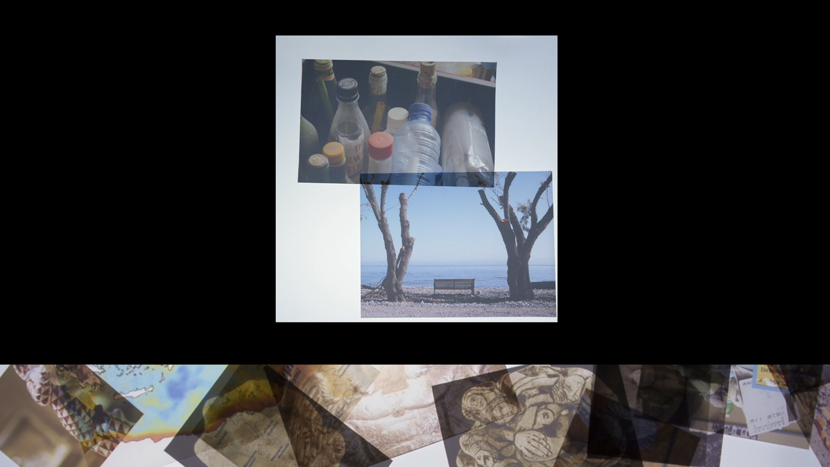 Gyres video still



Installation view Gyres 1-3, Whitney Museum of American Art.