Square Octagon Circle
2012-2014

Square, Octagon, Circle includes a series of videos, performances, photographs and ephemera that uses the ancient
lighthouse of Alexandria as a point of departure. From January to May of 2012, I studied at Alexandria University's
Marine Archaeology researching the social, mythical and archaeological traces of the Pharos Lighthouse in Egypt—
one of the Seven Wonders of the Ancient World–through interviews with archaeologists and dives in the harbor among
the vestiges of the ancient wonder which gave its name to the word 'lighthouse' in so many languages.

The narrative beings with a card from Reading the Deck of Tara:

"This card is the Lighthouse and it represents origins and destinations. You can see here two people standing on a boat
called Tara that was drifting in the polar pack ice. By the time the ice released us we hadn't seen the sun in many
months. The first light we would see would not be the sun, but the light of this lighthouse. I thought to myself that for all
of our speculation about the future–maybe the future is a light you can see in the distance. So I jump off the boat, diving
deeper and deeper until I hit the origin of the word 'le phare' as it lies on the bottom of the sea, in the harbor of
Alexandria."

While studying in Alexandria, I posted intermittent reports hosted on Grand Arts' website, which can be read here.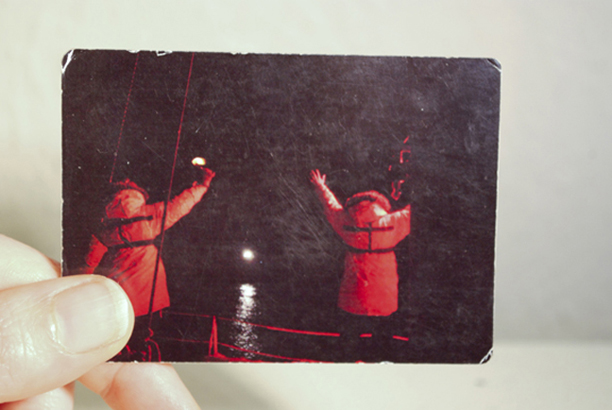 Lighthouse card from The Deck of Tara





Pharos at Qaitbey, brass sculpture.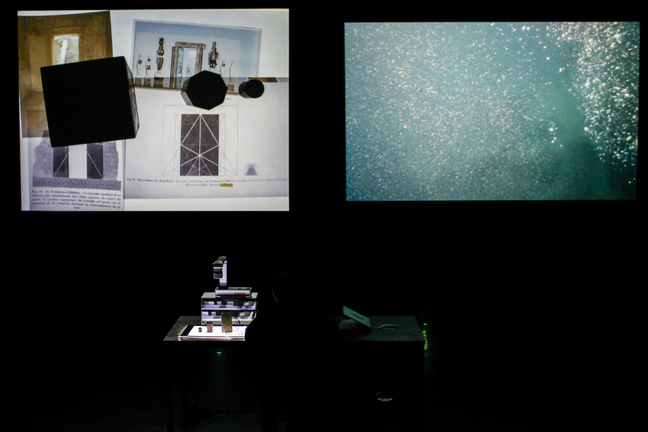 Eureka A Lighthouse Play, performance (STUK, Belgium).





Four Thousand Blocks, installation view Grand Arts.





Measuring the Circle, video still.





Installation view, Grand Arts, Kansas City.